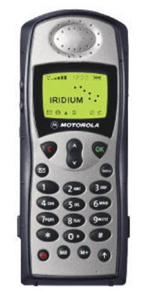 Whether you are in an area with poor cell coverage or there is a blackout, earthquake, blizzard, flood, tornado, or hurricane—a satellite phone lets you communicate with your family, business associates, and customers.
Wall St. Journal, Sept. 6, 2005, page A19: Phone networks fail once again in a disaster—

"And an onslaught of calls overwhelmed the few lines that were still operating."

"Sprint Nextel Corp. said it had gotten 35 of its 208 cellular sites in the greater New Orleans area running."

"On the day before Katrina hit the mainland, the Atlanta-based company [Bell South] sent a corporate jet with a stash of satellite phones... to New Orleans and elsewhere on the Gulf Coast."

Why get a satellite phone?
It's not a cell phone - The satellite phone automatically finds one of 66 satellites. It doesn't use cell towers, phone lines, or AC power—it seeks out the nearest of 66 satellites.
Works when cell phones don't work - Doesn't fail when cell towers are overloaded and "all circuits are busy." Doesn't fail when land-based cell towers and conventional phone systems go down. All you need is the sky.
Works where cell phones don't work - Worldwide coverage; no "impossible to reach" areas. Coverage from the North Pole to the South Pole, from Mt. Everest to Death Valley and all points in between. No roaming; no incompatible local cell service—it just works 24/7.
Always available - A satellite phone lets you communicate—no matter where you are or what is happening.
Features
Small, lightweight - Weighs 13.2 oz. Satellite antenna folds down when not in use.
Long battery life - 3.2 hours talk time, 30 hours standby time. Recharge from your car cigarette lighter or use the optional solar charger. Optional battery provides longer talk and standby time.
Made by Motorola / Operated by Boeing - Boeing - the world leader in mobile communications and the premier provider of satellite services.

Benefits
Free incoming calls - Incoming satellite phone calls are free, allowing contact without additional expense.
SMS text messaging - SMS text messages are sent from any web browser. If your satellite phone is turned off, the messages are stored for up to eight days.
Internet access - Satellite phones can connect your PC to the Internet and to e-mail.

9-1-1 access - When's there an emergency, you can reach an emergency dispatch center.

Pricing
Satellite phone: $1,895. Configured for you. Ready to use. Express delivery. View...
Airtime plans - Select a plan:

| | |
| --- | --- |
| | $29.95 per month, plus $1.49 per minute for outgoing voice and data calls. |
| | Prepaid 500 minutes, good for 12 months—$599 |
| | Prepaid 1,000 minutes, good for 12 months—$1,199 |
| | Prepaid 3,000 minutes, good for 24 months—$3,299 |

Usage:

| | |
| --- | --- |
| | Incoming voice calls are free and are charged to the caller. Caller should contact their long distance provider for rates. More info... |
| | Incoming text messages are free. No charge when sending SMS text from a PC browser. More info... |

Discounts - Discounts on multiple phones:


| | |
| --- | --- |
| | Second phone for home: $1,695 when purchased at the same time. |
| | Further discount on a third phone for the office—provides business continuity when disaster strikes. |
| | Reduced rates when calling satellite phone to satellite phone—as low as 55¢ per minute. |
The fine print
Restricted countries - Calls embargoed to Burma, Cuba, Iran, Libya, North Korea, North Sri Lanka, Syria.
Clear view of the sky - Requires clear view of the sky—so if you're deep in the jungle or in the skyscrapers of Manhattan, you'll need to find a small clearing.
Two-stage dialing - Some PBXs do not allow access to the country code that has been assigned to the satellite system (country code 8861). For these cases, the caller may call a conventional phone number in Arizona, which will place the call to your satellite phone. In that case, your satellite phone will be charged a per minute fee.
Buy (or rent) your satellite phone now.

Click the 'Order' button, or the 'Info' button if you have questions for us.

You can also rent a satellite phone -- just ask us!

Once you place your order, our delivery agent will phone, e-mail, or fax you to confirm your purchase, or if any other further information is required.

Amex, MasterCard, Visa, PayPal accepted. 8:00 a.m. delivery available, battery fully-charged, set-up, and ready to go.

Thank you for your business! We welcome your comments. E-mail your comments directly to our general manager
---
Order



Info

How satellite phones work: